There are so many options out there for what teachers use as their lesson planner. Here's what I know about just a few of the options out there. I know from personal experience that different schools have varied expectations about teacher's lesson plans. Some administrators never check plans unless they see a need for it, others require teachers to turn in plans the week before they are taught, and everything in between.
Digital Planners
Google Drive
Whether you use a new doc for each week, a spreadsheet you have carefully formatted and create a new tab for each week, or even format slides to show specific lessons, your plans will always be available to you if they're on Google Drive.
If you aren't up to the task for formatting the file to look how you want, there are tons of sellers on Teacher Pay Teachers who sell digital templates they have set up, and some will even make custom ones for you if you have specific needs that you don't see met by what is already in their store.
Planbook.com
This web-based planner allows teachers to set up their planner for a variety of types of schedules. You can view your plans by day, week, month, or as a list. Lessons can be organized into units. Standards and assignments can be attached to lessons. It allows you to share plans with colleagues who also use Planbook.com using a teacher key, and you can also share items you specify with students (and their parents) with a student key. If you need to bump a lesson forward or backward by one or more days, it only takes 2 clicks. You can also easily extend a lesson and/or the standards attached to it for those lessons that take more time than anticipated. There is a print-to-pdf option that would make it easy to keep a paper copy on your desk, or attach the pdf to share plans with your administrator. There are also apps you can use to access your planner on both Android and iOS. Although there is a yearly subscription fee of $12 for Planbook.com, that is far less than some of the paper options out there. You can sign up for a 30-day trial to check out whether it works for you before committing to the subscription.
PlanbookEDU.com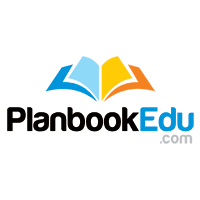 Here's another web-based planner, with many similar features to Planbook.com. This does have a free version and a paid version. The subscription costs $25/year, and you lose some really important functionality without it, such as being able to print or email your plans. Their site is supported on iPad and iPhone, but not through an app. You get a 14-day free trial of premium features when you sign up, and are automatically changed to the free version once the trial ends. It only takes 2 clicks to bump the entire day's plans to the next day (think snow days). Comparing Planbook.com and PlanbookEDU.com, the latter is very simplistic, but that also means there are fewer features available, so it depends upon your needs and preferences which is right for you.
Paper Planners
Erin Condren

I've seen a couple of colleagues with Erin Condren teacher planners, and several YouTube videos of teachers outlining the pros and cons of these beautiful planners. They start at $55 for a standard wirebound coil, or $60 for metallic coil and metallic accents on the cover. It comes with: 40 weeks of lesson planning, 12 monthly planning pages, a communication log, a yearly planning page, some checklist pages (not enough to be your gradebook), 1 sheet protector, a folder, dry erase board inside covers, and 4 pages of sticker sheets. The primary complaint I heard from several YouTube videos is that the monthly planning pages are all together, and then all of the weekly pages are in a separate section. So, you'll have your August-July calendars, followed by your weekly plans for August-June, while some prefer to have the weekly plans immediately following that month. By the time I customized one on their site, I was up to $68 before tax and shipping. They are very pretty, and have a lot of useful pages included. The second most common complaint I heard on YouTube videos is that the months and weeks are not dated. The months are labeled, but the actual numbers for each day are not printed on the page. You need to put little stickers or write them in yourself.
The Happy Planner
I spent some time drooling over these at Michael's one week this summer. (Yes, I went multiple times, don't judge me.) There are several YouTube videos I watched comparing Erin Condren's planner with The Happy Planner. Some of the biggest differences include that The Happy Planner already has all of the dates filled in, the weekly planning pages are immediately after each month's calendar, and the page are repositional (to a degree…some won't make sense elsewhere). The Happy Planner is bound using a disc system (like the Arc notebooks at Staples), so you can use a special punch to attach any paper you want into your planner, and you can also remove and replace pages. There are lots of ready-made accessories you can add to your planner, such as additional student checklist pages, notes pages, folders, stickers. Let's put it this way, I didn't have everything I wanted to buy in my cart, there was a 40% off sale, and I still had $80 worth of things in my cart at Michael's before I decided against it.
My Two Cents
Personally, I like to use a hybrid of paper and digital plans. I love having all of my units and lesson materials on my Google Drive, but keep an abbreviated version of that week's plans written on paper. For the past several years, I have started the year with one of the digital options, but before September ended, I always go down to the teacher supply closet and pick up one of the basic planners available there. You know the ones, with greenish paper, 6 boxes across and 5 days down.
For the coming school year, I thought long and hard about buying an Erin Condren Teacher Planner or The Happy Planner's version. In the end I opted not to get either one. I'm left-handed, and have a very difficult time writing in binders and wirebound notebooks. The Happy Planner's binding system has 11 discs I would need to avoid, rather than the 3 in a binder, and I never write in binders.
Instead, I bought a really big Leuchtterm notebook, since I don't mind writing in that style of binding, and I'm setting up a few pages most days this summer to take what I think are the best features of The Happy Planner and the Erin Condren Teacher Planner and put my own twist on them. Is it time-consuming? Absolutely, but I'm counting it as crafting, so I'm happy to do it. I intend to include my weekly plans, checklist pages for me to log grades (as backup for PowerSchool, and to keep them at my fingertips in case I need them and don't want to log in to the digital gradebook), and more. I'm logging my progress in Instagram if you want to follow my setup.